Desktop Air Conditioner Personal Cooler
When you want a little extra spot cooling in your office during hot weather, a small, compact desktop air conditioner or personal cooler can be the perfect solution to beat the heat in a small package!

Of course these tiny air coolers are not limited to sitting on your desktop to cool you while you work. They can also be used at home while you're watching TV, eating a snack or even sleeping to take the edge off the heat and make the temperature bearable.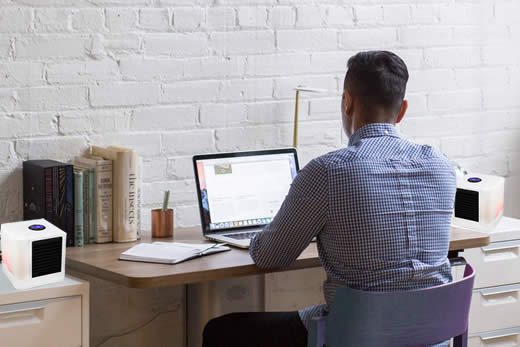 You may be thinking to yourself that, "Hey, I've seen these little cooling units pop up everywhere in ads in magazines and newspapers as well as online so they must be getting pretty popular."

You'd be right!

There are many different models coming onto the market from a variety of manufacturers. So which one is best? Which one should you choose?

Fortunately, I have had the chance to try out one or two models and I have to say, I was pretty impressed by the way they performed in the So CA heat!
How Does a Mini Air Conditioner Work?
First of all, I should set the record straight here. Despite the label they're given everywhere, these devices are NOT air conditioners!

They are actually little evaporative coolers that work by evaporating water and using the evaporation process to chill the air being pushed out by the internal fan.

That means they can work spectacularly to produce a lovely chilled breeze in the right climate while using crazy low amounts of energy to accomplish the feat. Unfortunately, they are also limited to climate restraints that restrict the effectiveness of swamp coolers.
Humidity
Because of the nature of the process that produces cool air by evaporation, a humid atmosphere will reduce that ability the more humid things get.

Essentially, you need a predominantly dry atmosphere to get the best results from these coolers. That means a humidity level of less than 50%. The lower the better.

One other thing. Even if the humidity in the room you are cooling is very low, if you have all the windows and doors closed, the device will naturally increase the humidity as it releases cold, moist air into the atmosphere.

If it is running continuously (which you would want it to), it will be gradually increasing the air's humidity level to a point where it exceeds 15% and the cooler's ability to cool the air will be reduced to the point where, at around 70-80% humidity, it will stop making cold air altogether!

To get around that problem, all you need to do is crack open a window and leave a door open a little. That's to create some air circulation that will carry the excess moisture in the air out of the room, replacing it with dry air.

That will keep the unit working at optimum, producing a steady stream of lovely chilled air in your direction!
Which is the Best Personal Air Conditioner?
Now that I've got that out of the way, let's look at the model I believe falls into the category of "best" for doing its job of making with the cold air!

It's a tough choice, because there are a lot of them that all do a great job of producing cold air while not costing too much. Here's the one that stands out for me:

Note: As an affiliate of iCold I earn from qualifying purchases.
iCold Personal Cooler
This unit is surprisingly small yet puts out a really decent cold breeze that really does keep you feeling a lot cooler.
It has a good size water tank that will last for up to 8 hours continuous cooling.

Right now, this cooler is on special offer with a 50% discount if you grab one (or more) before the offer runs out. That makes it's price under $100 if you're quick. You should check the seller's website for the final date of the sale.

Just click the image to the right (or the link below it) to visit the special deal page on the vendor's website to get the discount while it is being offered and secure your own personal air cooler for less than many others currently being sold by bigger online stores like Wal-Mart and Amazon.

Oh and to sweeten the deal even more, shipping is free!
An Alternative Cooler:
If you would like an alternative cooler model that is larger and can create more of a cooling effect in a larger room, I would suggest buying a full size portable evaporative cooler that stands on wheels and can be placed in any part of the room you want to have some extra cooling in.

Evaporating coolers make a great addition to central air conditioning where you need s little more "cool" without adding a lot more to your electricity bill!

I can recommend a really good portable ventless air conditioner/swamp cooler that you can buy from one of the bigger stores from a well known manufacturer brand. This one is currently being sold by my favorite online electrical appliance store, Sylvane.

Note: As a Sylvane affiliate I earn from qualifying purchases.

Whirlpool WPEC12RMT 155 CFM Indoor Evaporative Air Cooler
With this cooler, you can rapidly cool down a room of up to 309 square feet with this highly rated swamp cooler.
It features an integrated 1.45-gallon water tank for long continuous cooling and an airflow output of 155 CFM (cubic feet per minute) that also allows for the addition of ice or an ice pack to provide additional cooling power to cool down your space.

If you live in an area with a particularly dry climate, this is a great cooling solution that will also infuse humidity into an arid indoor climate using cross ventilation.

The easy-to-read front LED panel makes programming the sleep timer, adjusting the louvers, fan speed and setting the temperature a simple task.

Or you can control it all from your armchair with the convenient remote control.

Click the image above (or the link below it) to visit the dedicated product page on Sylvane's website for more information.

There are two models, the cheaper version comes without a remote control, so be sure to select the model you prefer.

Author's Note: I favor Sylvane over the likes of Amazon and Wal-Mart because Sylvane specializes in electrical goods and especially air conditioners, evaporative coolers, dehumidifiers and air purifiers. Their after-sale service is excellent with experts that can give professional advice if you have any problems.

This beats hands down the lack-luster service you get from the bigger stores that sell everything, making them "jacks of all trades, masters of none." I have heard way too many complaints over bad follow-up service from customers of sellers on Amazon in particular to feel comfortable recommending them any more.

[BACK TO TOP]

Posted on Mon, April 27 2020 in Air Conditioning | 1 Comments

Previous Post: When to Replace an Aging Air Conditioner