Getting an Evaporative Cooler to Work in Humidity
Evaporative coolers don't work in humid conditions, or so people tell you. But you can get them to work and blast cold air even when humidity is high indoors!

All you need to do is understand how these low cost air coolers work and use that knowledge to get more cooling ability from them even when the level of humidity rises to high levels in the room you are trying to stay cool in.

This article will explain how to do that by using the simplest of tricks that you'll probably kick yourself for not realizing after you read it!
Why is the Humidity So High?
First off, it's pretty important to understand why the humidity in your room is rising so high as to stop the evaporative cooler from expelling cold air any more.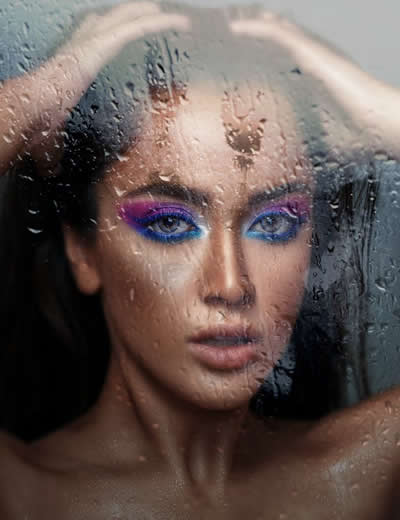 The explanation is in the way the device works to create cold air.

It uses evaporation of moisture to create the cooling effect, just like your skin does when it perspires in the heat and a breeze feels nice and cool. The appliances have a big water tank that soaks a porous membrane through which air is passed by the fan. The air picks up the moisture and evaporation reduces the temperature rapidly.

That moist air is blasted into the room by the unit's fan so you can enjoy a colder atmosphere. At the same time, all that cool, moist air is saturating the atmosphere in the room, artificially raising its humidity level. Eventually it will reach saturation point (100% humidity) and the evaporation process will no longer work, because the air cannot absorb any more moisture!
Cycle the Air
The way to prevent this happening is simplicity itself. All you have to do is open a window to let in dry air from outside and allow the moist air from inside to cycle out of the room.

You can open a door too. This will create a cross-draft in the room and allow moisture to escape, keeping the room's atmosphere dry enough to allow the swamp cooler to keep creating cold air.

When told about this simple solution, many people are surprised that they should allow hot air from outside to get into the room. Won't that make it hot in the room?

Actually, the room will stay cool because the cooler is still working and blasting out cold air, maintaining a cooler temperature than there would otherwise be in the room. This works very well and if you own a swamp cooler and were concerned it wasn't working properly, please try this before discarding it!
Running Costs are Still Low
This is a big difference from running a portable air conditioner which needs all windows and doors to be closed to keep the coolness in and the heat out. AC still works with a window open, but because it costs so much to run and uses so much power, it would be extremely wasteful (and cost you a lot more in dollar terms) to run AC with a window open.

However, ventless evaporative air coolers cost around 1/20th of a comparable AC to run in terms of power consumption. So there is very little wastage by having a window open and in fact this is actually a necessity to ensure the unit keeps the room cool.

So now you know (if you didn't already). You can run a swamp cooler in a humid room just by allowing air to cycle from outside to keep the moisture level low enough inside and you'll still enjoy all the low cost benefits of this type of cooling process day after day!

In response to a reader's comment, I've included the following note:

Note: This article is intended to explain how to get an evaporative cooler to produce better results indoors when the interior atmosphere's humidity is artificially increased by running the cooler. It is not intended to describe how to make such a cooler work when the exterior atmosphere is also already very humid.

If you live in a really humid place (averaging above 60%), you cannot realistically expect a swamp cooler to work like an AC.

At best you'll get cooler air blown out at you, but it will not cool a room or a whole house as effectively as AC. When the outdoor humidity gets over 70-80%, you'll reach the limitation of a swamp cooler. Then AC becomes the only realistic choice to keep cool.
Update 2020: What About Using a Dehumidifier?
It has been mentioned in the comments that a workaround might be to use a dehumidifier in combination with a swamp cooler to get better cooling in a humid room. Well, to a point, a dehumidifier can improve things by reducing the air humidity in the room and allowing the swamp cooler to cool better.

I must point out that this combo will still not come close to matching the cooling power of an air conditioner.

However, if you already own a swamp cooler and you want to improve its cooling power at least a little, then go ahead and run a dehumidifier in the same room. If the outdoor humidity is high, then run this combo with windows and door closed to allow the dehumidifier to do its work more efficiently.

As long as it can remove more moisture from the air than the swamp cooler adds to the air, you will benefit from a net reduction in humidity and an increase in cooling from the evaporative cooler.

Another important point if you intend using this combo is that a dehumidifier uses electricity too, so your saving on power consumption over an air conditioner will not be as good.

Most medium power, 30 pint dehumidifiers will use around 300 watts of electricity while larger 70 pint units can use around 700 watts. This plus the 100-200 watts of an evaporative cooler still works out to be a lot less than the 1500-2000 watts of 10,000 BTU air conditioner.

You may want to take a look at some dehumidifier suggestions and prices from Amazon by clicking/tapping the link below:




As an Amazon associate I earn from qualifying purchases.

[BACK TO TOP]

Posted on Sun, May 15 2016 in Air Conditioning | 44 Comments

Last Updated on Sun, Oct 25 2020

Previous Post: Best Value Portable Swamp Coolers to Buy Online