Air Conditioners: Sold Out in Stores
Have you noticed just lately, since the global pandemic has wreaked havoc in many industries that so many air conditioners are sold out in stores both online and in physical stores across the country?

This post is my reaction to a trend that I have noticed among many top stores that sell air conditioning equipment this year.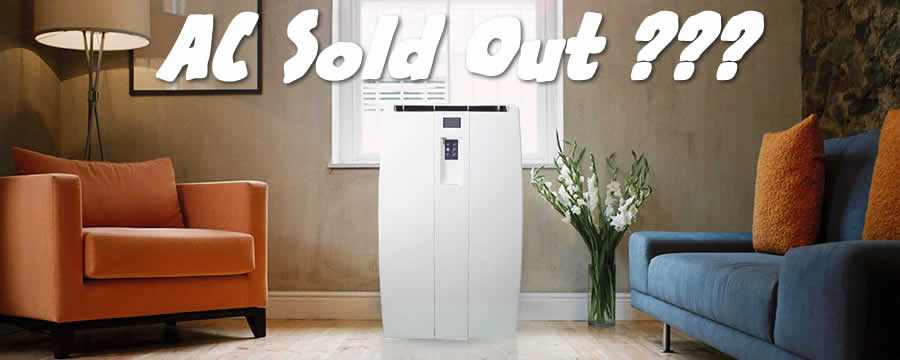 Why are so many popular models, especially portable air conditioners and swamp coolers, unavailable right now?
Suppliers Are Not Supplying!
Obviously, a lot of air conditioning models from may major manufacturers are produced overseas and need to be imported before going on sale in the United States.

A big source of air conditioning supplies is China and it seems that many of the big manufacturing corporations are feeling the negative effects of the pandemic. This has reduced production and in some cases firms are having to shut down factories and warehouses altogether.

All that spells big problems for consumers in the United States and other countries in the West that are major customers of these and other manufacturers.

I have noticed a number of big name self evaporating portable air conditioners from makers like Whynter, Honeywell, LG, De Longhi etc. are sold out, while a number of top name swamp coolers from Honeywell in particular have many models out of stock.
Demand Without Supply
I have noticed this trend personally since I work with and am affiliated to a number of distributors here in the US.

What I am seeing is that a number of the portable air conditioning models that I am currently recommending to potential customers are out of stock at both Sylvane and Amazon!

I'm sure these and other stores are tearing their proverbial hair out right now. People want to buy the appliances but they don't have them to sell!
When Will Supplies Return to Normal?
A question uppermost on many people's minds is when the stock will be back in the stores so people can buy the coolers they want and need for the summer that is almost upon us.

Do I have the answer?

No I do not!

I don't think the stores do either. They are doing all they can to get onto the manufacturers and get them to ship the machines over as fast as they can.

However, I believe the bottleneck is with the manufacturers right now.

The pandemic caused most workers to be forced to stay at home and that meant they have not been making air conditioners!

Fortunately, I can see some changes happening right now as the numbers are coming down across the world and workers are returning to work as restrictions are being relaxed little by little.
What To Do If the Air Conditioner I want is Out of Stock?
I there is a particular model that you have seen at, say Sylvane that is labeled as out of stock, my advice is to get them on the phone and find out when they expect new stocks to arrive.

On the Sylvane website on some AC models, they offer the option to reserve a unit and get an email when stocks are in. So you can return to the website and complete your purchase and expect delivery within their stated dates.

With Amazon, the same applies. Because a lot of items you find on Amazon are not actually supplied by them but rather by third party sellers (what, you didn't already know that?), you'll need to get in contact with the individual seller to find out when they'll have your model in stock and when they can ship it.

For now, my advice is keep checking back with the website you have chosen to buy your new air conditioner from to see when they have replenished their stock levels.

[BACK TO TOP]

Posted on Sun, May 30 2021 in Air Conditioning | 4 Comments

Previous Post: Window Mounted Evaporative Cooler